Bespoke Splashbacks From Salop Glass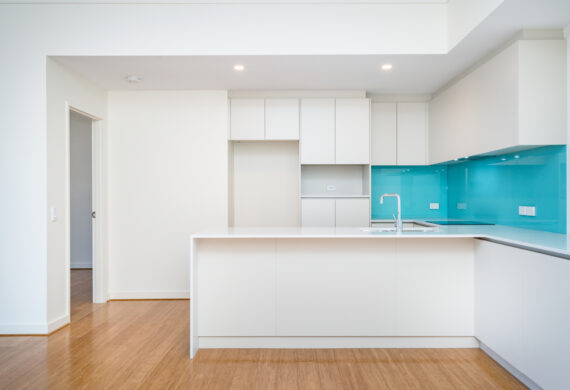 Bespoke Splashbacks From Salop Glass
Whether you are interested in a new splashback for your kitchen, the side of your bath, or even for your shower, here at Salop Glass we offer a range of bespoke options.
Every home is as individual as the people that live there, so why shouldn't you decorate it to suit your own tastes? And that doesn't stop when you get to splashbacks.
Full Colour
A common sight in many bathrooms and kitchens are full-colour splashbacks. More and more people are moving away from clear glass or plastic, or even tiled splashbacks, in favour of colour pop alternatives. Here at Salop Glass, we love installing full-colour splashbacks.
Your kitchen can go from drab or plain Jane by simply adding a coloured splashback. This is a nice and simple way to add that colour that your kitchen so desperately needs. Without of course having to retile the room! .
In the bathroom, we are used to seeing white tiled walls, or even magnolia with a hint of colour from the towels or bathmats. So why do we avoid adding any more colour in the bathroom? Usually, adding too much colour in the bathroom is avoided as it is a smaller space. However, a coloured splashback can be any colour you want it to be, and can even be frosted or transparent if you need it to be. Making it the perfect option no matter the size of the bathroom.
Full Design
Sometimes, just solid colour splashbacks aren't as unique as you want them to be. So why not put a little more design into it?
Here at Salop Glass headquarters, we have wonderful splashbacks with stunning imagery on display for customers to see.
Gone are the days where you have to have plain, simple tiles in the bathroom. You no longer have to have plastic sides to your shower. You can have beautiful bespoke imagery on your glass splashbacks.
Whether you want to step into a waterfall as you enter the shower, or you be surrounded by cherry blossoms or even the Amazon, we can surely make this a reality.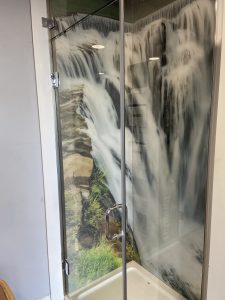 If you are interested in a bespoke glass splashback, there is no better way of getting exactly what you are looking for than contacting the team here at Salop Glass. If you come and visit our Shropshire showroom you can see first-hand some of the fantastic bespoke pieces we can create.