Glass Balconies and Balustrades from Salop Glass and Glazing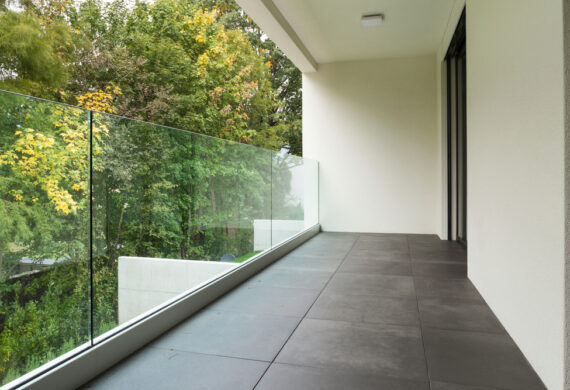 Glass Balconies and Balustrades from Salop Glass and Glazing
At Salop Glass and Glazing we are now proud to offer glass balconies and balustrades!
Providing a beautiful, contemporary addition to any home, our glass balconies and balustrades are elegant and attractive, and are suitable for both domestic and commercial properties.
Glass balconies 
A balcony makes a fantastic addition to any home, allowing you to make more use of your outdoor space, or create outdoor space if your property lacks any! Balconies provide a perfect spot to unwind and take in a good book, or soak up a beautiful view if your home boasts one. 
A glass balcony is a fantastic way to add a modern, contemporary touch to a classic balcony. Creating almost an invisible barrier between your balcony and the view, a glass balcony is a fantastic step up from a traditional solid balcony. 
Adding a balcony to your home will provide a wonderful outdoor space for you to enjoy, and our glass balconies are practical, contemporary and look stunning. We can create a glass balcony to fit your requirements, whether you want a full outdoor seating area, or just a small barrier for when patio doors on higher floors are opened. 
Glass balustrades
Our glass balustrades are a fantastic option for outdoor spaces that require barriers, for example, around raised patios or bodies of water, and they're perfect as indoor bannisters too!
When installed as barriers outdoors, our glass balustrades will provide protection for those who use your outdoor areas, while ensuring that the area still feels open and unobstructed. Our glass balustrades also provide the perfect, contemporary finish to an indoor staircase, creating the illusion of more space, and not obstructing the flow of light through your home, the way that a traditional solid bannister does. 
Contact us
To find out more about our glass balconies and balustrades, or for a no obligation quote, please contact a member of our expert team today. You can either give us a call or send an email to sales@salopglass.co.uk. 
Our emergency glass replacement services are also now in place once again, so should you need this please do not hesitate to get in touch.