Keeping Your Conservatory Cool In the Summer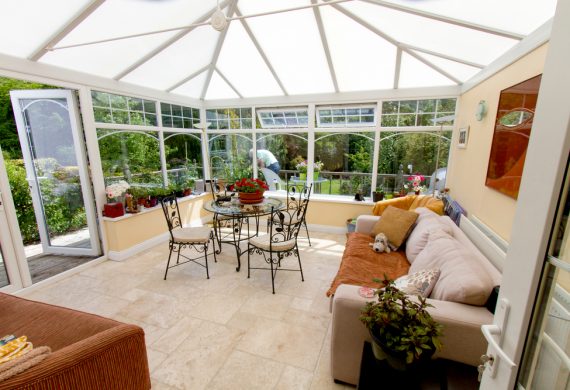 Keeping Your Conservatory Cool In the Summer
What a scorcher that was!
July 18th and 19th 2022 were officially the hottest days in the country's history – with some parts reaching an incredible 40.3 degrees centigrade. What's more, this temperature trend seems set to continue. Because of that, it's more important than ever that people know how to cool their conservatories. 
In this article from Salop Glass, we've prepared some great ways of keeping your conservatory and orangery cool on those scorching hot days. 
Embrace Minimalism 
Our first piece of advice is the easiest to accomplish. All you have to do is to make your conservatory as minimalist as possible during the summer months. Remove all the furniture that you don't really need and place them somewhere else in your home or put them in storage. Doing this will ensure maximum airflow in your conservatory and stop it from getting too stuffy. 
Put Up Blinds 
Our next piece of advice is to consider having blinds installed in your home. Closed blinds help to reflect light and heat away from your windows, helping to keep the inside of your conservatory cool. 
Blinds are fantastic for conservatories as they can be opened or closed depending on your needs. That means you can have them fully open on cooler days. Plus, they're great for keeping the sun out of your eyes! 
Design With a Bright Colour Scheme in Mind
Our final piece of advice is to design your conservatory and orangery with a bright colour scheme in mind. Think of clothes on a hot day: dark t-shirts and jeans heat much quicker than white t-shirts and chinos. 
The same principle is true when it comes to conservatories and orangeries. Bright colours, such as white, beige and grey, reflect light and heat, keeping things using these colours cool. Dark colours, in contrast, absorb them, meaning they tend to warm up very quickly. By designing your conservatory/orangery with a bright colour scheme in mind, you'll be taking advantage of this phenomenon and working to keep you in the hot summer.  
But what does designing with a bright colour scheme in mind mean?
It's very simple. If your orangery/conservatory has walls, make sure they're done in as bright a colour as possible. If you have a settee in there, give it a bright cover. If you have a dining table, give it a bright table cloth. It sounds straightforward, but it honestly doesn't take much to work well. 
Conservatories in Telford, Shrewsbury, and Shropshire 
For over sixty years, Salop Glass has provided our clients in the English midlands with high-quality glass products, including conservatories, orangeries and double glazing. 
Get in touch with Salop Glass today for more information about our conservatories, orangeries, and double-glazed windows in Telford, Shrewsbury and Shropshire.