Keeping Your Conservatory Cool This Summer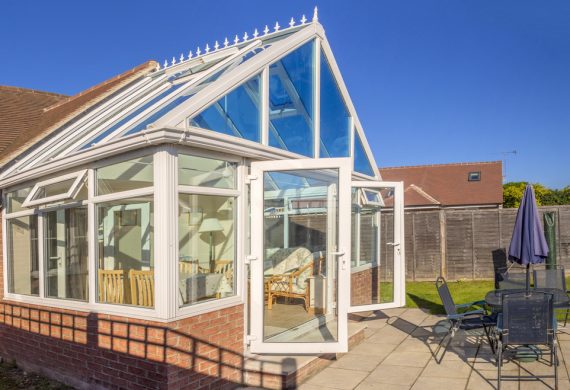 Keeping Your Conservatory Cool This Summer
As summer rolls around, many of us head out into our gardens to enjoy the warm sun. And those of us with a conservatory will be using this space more than we do for the rest of the year. With the sun beating down on the glass, you might be finding older conservatories are still getting unbearably hot during the day. So how can you help to keep the space cooler?
Blocking Blinds
With a number of methods to help keep your conservatory cool, the most popular of these is to have blinds installed in the room. Blinds can help to reduce the heat that is magnified into the room from the glass, particularly the roof.
There are a variety of styles of blinds that you can use in your conservatory, so it is generally a personal preference. However, roller blinds work wonderfully on the roof of a conservatory as they can be fitted to ensure maximum cover and support when they are closed. These can be found in a range of colours, patterns and designs making them great for bringing in your own style and personality.
With blinds, you can have them as open or closed as you wish, which can help you to take control of regulating the heat in the conservatory, without the need to use any electrics or other methods. However, you might find that the times you want them fully open so you can enjoy the sun are the times when the room gets the warmest, so we still recommend having a back up in place to help keep you cooler.
Cooling Fans
Most of us have at least one fan in our homes, and many of us with an older conservatory will have a ceiling fan already built-in. While fans are good the majority of the time, when your conservatory is at its warmest, you might find that it just pushes the warm air around. We recommend investing in a movable stand fan if a fan is your top choice. Placing this in front of open doors, particularly your internal door as the interior of your home is usually cooler than outside in the summer, can help it to push cooler air around.
Air Conditioning
Air conditioning is a great alternative to just having a fan in your conservatory. Air conditioning allows you to completely regulate the temperature of the room, making it one of the most comfortable options. The two main options here are; built-in air-conditioning and stand-alone air conditioning units.
Built-in can become quite expensive for the initial set up, and will require servicing every so often (depending on use) but will give you the best results and lifespan.
Stand-alone air conditioning units are a much cheaper alternative and allow you to move them around your house as you please (such as into a hot bedroom in the height of summer). Stand-alone units come in a range of styles and sizes meaning you can find the right one for your space, and they can even be hidden away when not in use (if you have ample storage that is).
Light And Airy
Dark colours tend to store heat, so if you are looking to try and naturally keep the space cooler, ensure that your decor is nice and light. This can include not only your walls but also soft furnishings like sofas, cushions and rugs. You will also want to avoid leather furniture as this stores heat and can be extremely warm to the touch, and somewhat painful to sit on with any bare skin.
New Conservatories
Here at Salop Glass, we offer a range of different styles of conservatories to suit you and your home. From Georgian styles to T-shape conservatories, we can ensure your new conservatory is just as unique as you.
We use the latest in glass technology, meaning that your new conservatory will be warmer in winter and cooler in summer.
For more information on a new conservatory this summer, please get in touch with a member of our team today who will be happy to assist you. You can check out our knowledge hub for a selection of FAQs.