Mirrors To Break The Mould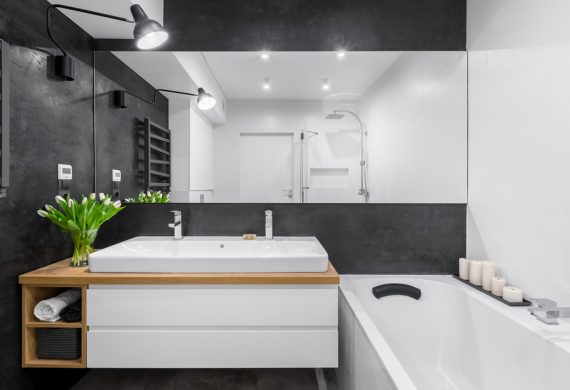 Mirrors To Break The Mould
Something as simple as adding a mirror to a room can have more of an impact than many of us realise. The size, shape and position of the mirror can change the dynamics of the space, and can even impact how you use the space.
Bring In The Light
Mirrors are known best for their reflective properties, usually of the user for vanity purposes. However, these reflective properties include the ability to cast light across a room that is reflected in the mirror.
Subtly positioning your mirror on the wall that sees the most sunlight can help you to transform the rest of the room by reflecting the light across it. This also works when you have your room light, or lamp pointed at your mirror, which is then cast across the room.
The positioning of your mirror takes some consideration as a poorly placed mirror can leave you with shadows cast across the room and potentially dark spaces.
Grow Your Space
While introducing a mirror to your room can't physically grow the room, it can offer the illusion that the room is significantly bigger than it is. With the assistance of the above-mentioned light reflection, larger mirrors can give the illusion that the room continues past the wall. If you have a small room, a larger, full-length mirror can work wonders, and if you don't have the wall space, consider it on the front of a wardrobe.
Adding Design
Mirrors no longer have to conform to the standard shapes that you find in many stores. Here at Salop Glass, we are able to cut your bespoke mirror to a range of shapes and sizes to suit your room and design. You no longer have to change your style to suit what you can find.
With this in mind, why not consider adding mirrors to your room decor. As with the above-mentioned light and space, adding the mirrors to the fitted decoration can aid with these. When it comes to the home office, usually the smallest room in the house right? Make it feel less crowded by adding a wall of shaped mirrors, whether they fit to a pattern like squares or hexagons, or you go freestyle with bubbles across the wall. Get in touch with our team if you already have some ideas in mind and we will help bring these ideas to life.
Not Just A Standard Mirror
Sadly, mirrors come with the reputation of being easy to break, so whether you believe in the seven years of bad luck or not, you might be wondering where you can replace that mirror that came fitted with your furniture. Here at Salop Glass, we don't just offer your run of the mill mirrors, we can also cut to size mirrors to replace those that have been damaged. This includes the likes of wardrobe doors, bathroom units, and even ones to fit your favourite frames.
We also offer a range of full wall mirrors if you are looking to kit out your dance studio or gym.
For more information on bespoke mirrors from Salop Glass, please get in touch with a member of our friendly team today who will be happy to discuss your requirements with you. Head over to our blogs for a range of other ideas on how we can help you around your home.