Orangeries In Time For Summer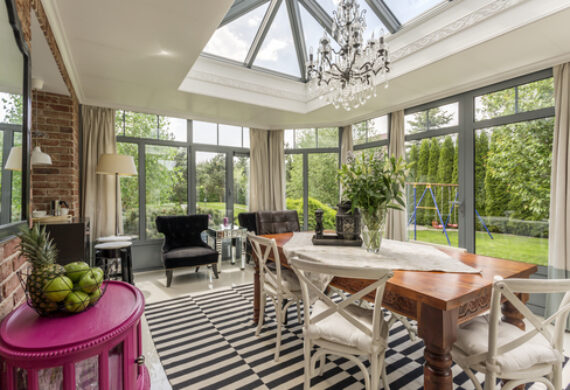 Orangeries In Time For Summer
Orangeries were originally built as a place where you could grow fruits not typically grown in the UK at the time, such as oranges. In more recent years, they are a stunning alternative to the typical conservatory or extension.
Why An Orangery?
We often see conservatories and extensions being chosen as a way of extending your home, so why would we recommend the lesser-known orangery?
An orangery boasts the wonderfully large windows that you would find if you were to look at a conservatory. However, it still boasts a significant amount of brickwork, combined with a partially solid roof featuring a central roof lantern. This combination allows you to enjoy the features of the two alternative types of extension in one easy place.
What Features Do I Need?
Your new orangery will be your space to do with as you please. If you are imaging the space to have a specific purpose, such as a dining room, you might want to consider certain features.
It might seem trivial to consider at first design, but think about what you are looking to use the room for when you are considering light fittings and plug sockets. For example, if, as mentioned, you use the space for a dining room, you will want the light fitting above where you put the table, rather than off centre. Alternatively, if you are more likely to use lamps over main lights, consider where you will want these so that plugs can be accommodated.
Another feature to consider is the flooring. If you are likely to be in and out of the garden with dirty shoes on, hard flooring such as wood or tiles is better than a carpet. However, if the room is a relaxing space that you want to be soft underfoot, carpets are great.
Prepare For All Weather
If you have previously had an older conservatory, you might be concerned about how cold your orangery can become in the winter. The best way to address this concern is during the design and construction process, rather than as an afterthought as we enter the winter. You might currently be sitting outside thinking how warm it is, and why would you be considering heating, but this is far easier to fit during the build.
If you plan on using your orangery as a room all year round, investing in a form of heating is the best option, rather than a small electric heater. The main options that people choose from is: firstly, to extend your current central heating system to include another radiator in the space. With a radiator, you will need to consider where this will be fitted as typically it will be against the existing house. The second option, though slightly more expensive, removes the concern of where things will sit as this is underfloor heating. This option is increasing in popularity as not only does it stop you from getting cold toes on the floor but it also heats the room without losing any space.
There is no one size fits all when it comes to orangeries. That means that our team will work closely with you to ensure that the style and design that is your final build is the right one for you and your home. If you are looking to have your orangery built and ready to use in time for summer, the sooner you contact us to discuss, the sooner we can get the work underway and have you with your feet up in time to enjoy the sun shining in through your roof lantern.
For more information about orangeries or conservatories, you can head over to our knowledge hub. Alternatively, get in touch and a member of our team will be happy to assist you. Check back to our blogs regularly for more ideas for in and around your home.