Should you Choose Bi-fold, Patio or French Doors?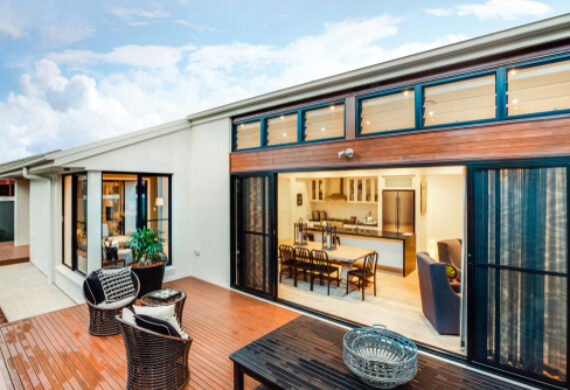 Should you Choose Bi-fold, Patio or French Doors?
Choosing the best style of door for your home can feel a bit overwhelming! But fear not- if you're stuck on which style of glass door you should choose for your home, we've got you covered! 
Read on as we explain the difference between bi-fold, patio and French doors, to help you make the right choice. 
Bi-fold doors
Bi-fold doors provide the option to open up a whole wall of a property, making them fantastic for commercial buildings, as the doors can be opened to connect an indoor and outdoor space in the summer. 
Bi-fold doors are also a fantastic option for the home, enabling you to really open up your space and let light and fresh air flood in. At Salop Glass we offer bi-fold doors with internally, and externally folding sashes, as well as side and middle openings, so we'll be able to provide bi-fold doors with an opening that works perfectly with your space. 
Patio doors 
Patio doors feature a static frame, and the door slides half-way open into this frame, creating a seamless transition between your indoor and outdoor space. 
Patio doors provide a modern solution, and work fantastically within contemporary style properties, although, our selection of patio doors features a range of styles and colours, so they can be adjusted to fit any space and style. 
French doors 
French doors traditionally open outwards, although then can be installed to open inwards too. French doors are a classic style, yet they remain stylish and versatile, and at Salop Glass we offer them in an array of styles, colours and finishes, so you'll have no trouble finding the perfect French doors for your home. 
How to choose 
When it comes to choosing the best style of door for your property, it really comes down to two factors, your preferred visual style, and the practicalities of how the doors will be used. 
French doors provide a traditional, simple look, so if your home boasts a traditional, simplistic overall style, then French doors will probably be the best choice. Alternatively, if your home boasts more of a modern, contemporary look, then bi-fold or patio doors will probably be a better choice.  
In addition, it's worth considering the practical uses of the room where the doors will sit, if you really want to make the most of the view from a room, then French, or bi-fold doors will be better options, as the static frame within patio doors can obstruct a view. 
However, because of the way in which French doors open outwards, they are predisposed to damage from the wind, or from being pushed too far by young children for example. Patio doors are a more practical option if you are concerned about such issues, as they slide open within the frame, so there are no hinges to be damaged by a strong gust of wind. 
If your property is commercial in nature, then bi-fold doors are a fantastic option, not only because of the way that they connect an indoor and outdoor space, as mentioned earlier, but also because of the way that they simply fold up out of the way. With the doors folded open out of the way, your customers can freely move in and out of your property without any risk of the doors getting in the way. 
Contact us 
If you need any advice about our doors, or would like a no obligation quote, please contact a member of our expert team today. 
You can either give us a call or send an email to sales@salopglass.co.uk. Our emergency glass replacement services are also now in place once again, so should you need this please do not hesitate to get in touch.