WarmRoof On Your Extension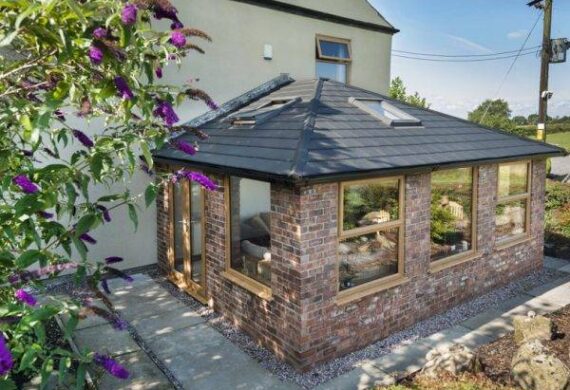 WarmRoof On Your Extension
Investing in a WarmRoof on your extension, whether it be a solid extension, a conservatory or an orangery can have a huge impact on your home. So what are they and why do we recommend at least considering a WarmRoof?
What Is A WarmRoof?
WarmRoof has been engineered to be the most configurable and structurally robust solid, insulated and tiled roof available in the UK. The engineered design helps to create the most energy-efficient roof possible while being fully customisable to suit your home.
With a WarmRoof, you can select the style of the tiles or slates on your roof to help match the rest of your home. Alternatively, you can make the roof stand out as an external feature!
Why Are WarmRoofs Better?
WarmRoofs have been created to ensure that your extension space can be used daily no matter what time of year. To encapsulating the heat during winter to keeping the space cooler in the height of summer.
Previously, many people with conservatories or orangeries would have periods of the year where they are left unused. The entirely glass structure would mean the space is too cold in winter and would require a significant heating bill to keep warm, but too hot in the sun as the sun hitting the window overheats the space inside.
Designed To Match
When you are investing in an extension on your home, or looking to replace the roof on your existing extension you may be concerned about matching it to the rest of your property. Here at Salop Glass, we can offer a range of options as part of the WarmRoof collection. From a selection of roof tiles and slates to the bricks that we use and even the window options.
A Complete Extension
A WarmRoof extension doesn't need to be just the roof, it can be the complete extension. Speak to a member of our team today to discuss your project and we will be happy to start working on a design and plan perfect for your home.
Upgrades To Match
While designing your new WarmRoof extension you might find a selection of options that we have to offer that you much prefer to your existing windows and doors. If this is the case, we can work with you to create a plan to upgrade the rest of the features on your home to the new-found style.
For more information on WarmRoofs or any of the other services we offer here at Salop Glass, please get in touch with a member of our knowledgeable team who will be happy to assist you. You can also head over to our knowledge hub for a range of answers to frequently asked questions.