We Are Open! Here's Everything You Need To Know…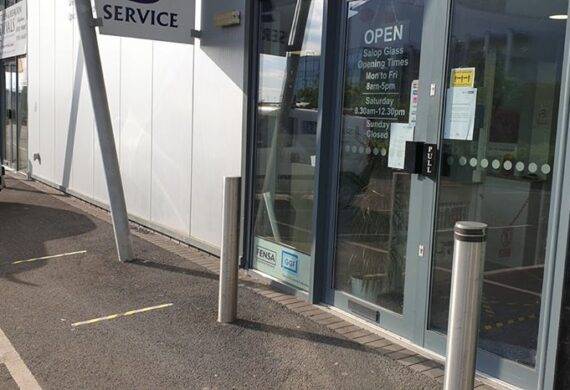 We Are Open! Here's Everything You Need To Know…
We are pleased to announce that from today (Monday 18th May) our shop will reopen. On 24th March 2020, we decided to close our doors following the stay at home announcement from the government. While it saddened us to do so, we knew that it was necessary for the greater good.
While we couldn't serve domestic customers during this period, our team worked tirelessly in hospitals to install glass screens in Minor Injury Units and A&E departments.
Now, nearly 2 months following our closure, we are reopening our doors. And we are excited to start working with customers again. From the supply and fit of replacement glass to quoting for new windows and doors.
Social Distancing At Our Glass Shop
To ensure that staff and customers remain safe on our premises, we have made some changes in our glass shop. From today, a one in/one out policy will be in place. This means that only one customer at a time is to enter the shop. If there is someone already present in reception, we ask that you wait outside. To help you comply with social distancing guidelines, we have placed floor markings on the pavement outside the shop.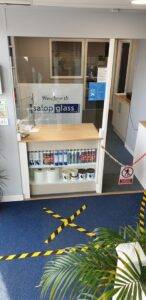 All of our staff are fully briefed in accordance to the government guidelines. As well as complying with social distancing, they will be upholding exemplary hygiene standards. As per official advice, regular hand washing will be encouraged as well as the use of hand sanitiser.
We do ask that if you are unwell at all, or present with any symptoms relating to COVID-19, that you stay at home and do not come and see us until you are well again. Similarly, if anyone else in your household is unwell, we would ask that you do not visit the shop until they are completely recovered.
Should you need us at this time and aren't able to physically come into the shop due to self-isolating or shielding, please call or email us. We will do everything we can to help.
Changes To Our Operations
As well as changes to our store, our installation team will also be following new procedures to keep both themselves and customers safe.
Following our reopening, we will be contacting everyone who had jobs booked with us prior to the lockdown. We aim to update everyone in due course on how soon we will be able to fulfil their orders or attend to complete their projects.
We are incredibly grateful for the patience and understanding of our customers during this time.
Contact Us About Glass & Glazing In Shrewsbury
If you would like to enquire about glass, glazing, doors and windows in Shrewsbury and Shropshire, please contact us. You can either give us a call or send an email to sales@salopglass.co.uk. We will be conducting quotations alongside our other services, such as custom-made mirrors and glass made to order. Our emergency glass replacement services are also now in place once again, so should you need this please do not hesitate to get in touch.