What's the Difference Between Conservatories and Orangeries?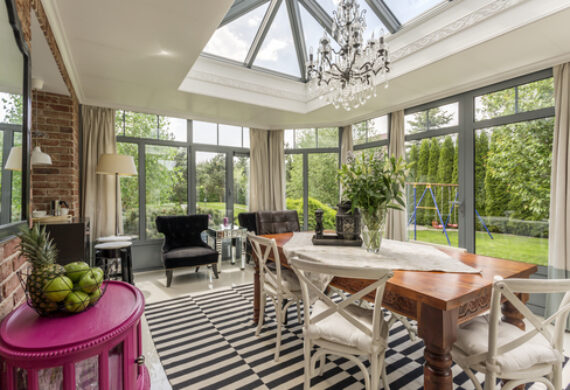 What's the Difference Between Conservatories and Orangeries?
If you're thinking of adding a conservatory to your home, you might be confused about the difference between a conservatory and an orangery, and wondering which style is a better choice for your home! 
So, what's the difference?
Both conservatories and orangeries are home extensions, and both are excellent options for adding an extra room to your home. However, there are differences in their construction, as traditionally conservatories are constructed with more glass than orangeries.
Generally, a conservatory is constructed with a pitched glass roof, glass walls, and a brick base. While an orangery is a brick structure, with windows and a glass roof. 
How to make the best choice
Perhaps the first factor to consider is how, and how often, you'll intend on using your extension. Orangeries tend to boast a more consistent temperature than conservatories, due them being constructed of more brick than conservatories. Conservatories can traditionally be too cold in the winter and too hot in the summer, while it's much easier to maintain a comfortable temperature all year round with an orangery. 
Consequently, if your extension is intended to be an extra room you'll use irregularly, when the weather is suited, then a conservatory is a perfect option for you. However, if you need a room that will be used all year round, perhaps as a dining room, then an orangery will be your best bet.
Alternatively, if your extension is indented as a way to enjoy a view from your home, or your beautifully manicured garden, then a conservatory will be a much better option, providing a unobstructed view from all sides. 
Another factor to consider is whether it's important that value is added to your home via your extension. Generally, more value will be added via an orangery, as they are closer to a traditional extension than conservatories. Although, the value of your home is likely to increase somewhat by adding any extension! 
Finally, it's perhaps worth simply considering which style you prefer. orangeries and conservatories can look quite different, both inside and out, so it's important to consider which style you prefer, and which style will suit the overall look and feel of your home!
Contact us 
If you're considering a conservatory, or an orangery, feel free to  contact a member of our expert team today, for advice on which is the best choice for you!
You can either give us a call or send an email to sales@salopglass.co.uk. Our emergency glass replacement services are also now in place once again, so should you need this please do not hesitate to get in touch.