Keep Heat in with Doors From Salop Glass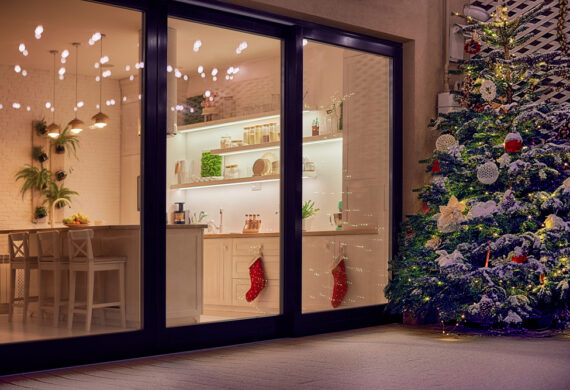 Keep Heat in with Doors From Salop Glass
A common winter concern is that we are losing heat from inside our home. Our windows are usually what we are quickest to blame, followed closely by our ageing loft insulation. But how often do we consider that our external doors might be to blame, if not totally then at least partially.
Feeling a bit draughty?
The quickest way to find if you have a draught around your external doors is to find a breeze period of time, and have a feel around your door seals. The majority of the time you will be able to feel exactly where the draught is coming from. If it's a break in the seal, you might be able to simply have this resealed. However, depending upon the age and style of the door, it may be worth investing in a new door altogether.
Other ways to notice you have a draught by a door is either a door curtain-twitching in the breeze, or pop a piece of tissue paper down to see if the breeze is hitting the floor. Remember, if you have a windowpane in your door, this is also another place the draught can be coming from, so please don't fail to check this.
New front doors
If you have decided that a new front door is what you need, whether its because of your draught, or just because your door is starting to look tired, we have a selection of doors that are great for every home.
uPVC doors are a widely popular and reasonably priced option to replace your front door. The popularity of uPVC doors increased as technology changed, due to the thermal factors and increased security that they offer. These doors are designed to ensure that they offer the best security possible, with a core that makes them difficult to break through, and an integrated locking system that allows you to secure your door for its full length, meaning you no longer need to lock the top and bottom of your door.
Composite doors are the latest offering in terms of new door technology. This style of door is entirely customisable. From selecting the colour to suit your personal style, to the addition of windows and even the style of windows, everything can be changed to suit. The security of composite doors has been police approved thanks to the new system that the doors use. They also offer increased energy efficiency, boasting up to 17% better efficiency than a standard door.
New patio doors
Our patio doors are often larger than a standard-sized door, allowing for more heat to be lost overall. Quite often these doors open into a room that is well used so a draught is noticeable. With the size of these doors, when you notice a significant heat loss it is best to just upgrade to a more modern door, and potentially better glazing.
Here at Salop's, we offer three main types of patio doors. Our most popular is a standard patio door, these sliding doors have long been a staple of homes that open onto a wonderful garden. The use of a sliding door means that you do not need to consider space to open doors, and the one side remains as simply a large style window. This style of doors allows you to give the illusion of the room and the garden being as one, with minimal disruption.
French doors add a touch of elegance to any room they are added to. uPVC french doors offer that extra protection against the harsh cold of the winter weather, whilst looking equally as attractive.
Bi-fold doors are a truly wonderful addition if you want to open your home out into the garden. While this might give you fears of the winter chills, come summer you will love the garden space.. Bi-fold doors allow you to open across as much or as little of your doors as you wish.
Here at Salop's, we want to make sure that you keep your homes as warm as possible this winter. So if its time to invest in some new doors get in touch with a member of our expert team today, we will be happy to discuss your options with you.